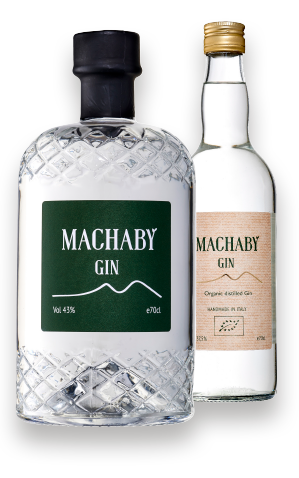 Machaby Gin is the offspring of a love story between Italy's breathtaking mountain-scape and Danish passion.
The gin was conceived in Denmark. its taste originates from a burning passion for the Machaby mountain in the Aosta Valley. Once you see the stunning nature of the Machaby mountain unfolding before your eyes, you cannot help but falling in love. With the purity. With the scenery. With life.
I fell head over heels in love with the Aosta Valley. The wonderful, captivating sunsets of the scene swept me off my feet, and there was no doubt in my mind – the gin had to be made here. The flavourful herbs and spices unite in a completely unique taste, and I'm extremely proud of it.
– Pauline Birch, CEO of MAMA VODKA A/S
THE TASTE OF ITALY'S MOUNTAINS
Machaby Gin was developed by Mama Vodka's demanding taste panel in Denmark. Distilled on the ingredients of carefully selected, wild Italian botanics nestling at the foot of the Machaby mountain.
Designed for the demanding palate of global trendsetters who celebrate life – and appreciate quality in every detail.
Notes of juniper berries, elderberry, coriander and marjoram encapsulate the essence of the Aosta valley area and imbue the Machaby Gin with a rich, aromatic and slightly floral character, ensuring a superior and sublime taste.